Our hours of operation are Monday - Friday, 9:00 am EST to 5:00 pm EST.
We ship most orders on the day they are fulfilled provided we receive the order by 2pm Eastern Standard Time and it is shipping to the billing address. Shipping to a different location may delay shipping until verified. The shipping speed you select does not guarantee when the order leaves the warehouse. All addresses go directly to the shipper from the computer the exact way that it is typed on the original order. Please double check your shipping address before submitting your order. Please place apartment numbers on the second line so that it is clear it is an apartment number.
Free Shipping Restrictions
We offer free shipping on all continental US orders over $99. This does not include Alaska, Hawaii, Canada or international orders. Free shipping does not apply to freight orders. Shipping carrier and service will be at our discretion.
Any requested change in shipping option will require any additional shipping cost. If your package is deemed undeliverable and returned, usually due to a faulty shipping address, you will be charged standard shipping on the re-attempted package delivery.
MY ORDER
Tracking My Package
Once your order is processed and shipped, a tracking number will be sent via email to the email address associated with your order. Click on this number to track your package via the shipping carrier's website. Tracking numbers will not be functional until 8pm EST of the day the package is sent.
My Tracking Link Isn't Working
Packages are untraceable until 8pm of the evening the package is shipped and the tracking number will not be functional until this time. If the tracking link sent with your confirmation email isn't working, try logging into our website, find your order and click on the tracking number to track your package through the carrier. Note that your tracking number differs from your order number. If the link still does not work, try entering your tracking number directly into the carrier's tracking page. If you still can't get your tracking information to appear, contact us and we can assist you in finding where your package could be.
My Package Was Undeliverable / Returned
If your tracking information shows your package was undeliverable or returned to us in Roanoke, VA, the mail carrier decided the package could not be delivered safely. There are a few reasons for undeliverable packages:
A part of the address is missing (usually apartment / suite numbers)
A part of the address is incorrect / nonexistent (usually apartment / suite numbers)
Mailbox / doorstep was inaccessible
Mailbox / doorstep was insecure
The package could not fit in mailbox but could not be safely left on doorstep
Unfortunately, The Tanning Store has no control over when a package is undeliverable as that decision is left to the mail carrier's discretion delivery. They may leave the package at the local post office or the carrier hub for customer pick up or they may send it back to our warehouse. Returned mail may take several days to reach us and we have no warning when this happens. When the package does return to us, we only know there was an error at delivery until we have time to assess the problem.
When we receive undeliverable packages, we attempt to contact you for an updated / corrected shipping address to resend your order. Our Free Shipping offer does not apply to any re-attempted package deliveries. You will be charged standard shipping for any subsequent delivery attempts.
If we can't contact the customer to figure out the problem, we will reclaim the package contents and refund the order, minus the shipping. Shipping is non-refundable.
I Think My Package is Lost
If your package tracking hasn't been updated after a few days, it may have been lost in transit. With the incredible volume of packages handled by the carriers, losing a package is rare, but does occur. We understand your frustration. Please contact us with your situation and we can attempt to find your order. If it appears that the carrier did lose the package, we will ask that you initiate a claim with the shipping carrier. We will follow up on your claim and once the carrier declares the package lost, we will re-ship your order. We do ask that if your initial package does find its way to you, that you contact us so we can reverse any new shipment in transit or send a return label for the duplicate order.
Undeliverable Packages
If your package is deemed undeliverable due to inaccurate or invalid address, the carrier will return the package to our facility. Typically, neither the customer or us is aware the carrier is returning the undeliverable package until it is returned to our facility. We then call you for the correct address and to make arrangements for reshipment. The additional shipping cost for the return to us by the carrier and reshipment to the correct address are all the customer's responsibility.
DOMESTIC SHIPPING
Domestic Shipping Services
The Tanning Store offers UPS, USPS and FedEx shipping services. Although most orders made before 2pm EST are shipped the same day, the shipping option you select does not guarantee when the order leaves the warehouse. Your shipping options are subject to change depending on the weight/destination of your package.
We offer the following shipping services within the continental US, with some services at cost to the customer:
UPS Ground - 1-7 business days transit time (does not deliver to PO Boxes or APO addresses)
UPS 3 Day Select - 3 business days transit time (does not deliver to PO Boxes or APO addresses)
UPS 2nd Day Air - 2 business days transit time
UPS Next Day Air - delivery by 10:30am the next business day
UPS Saturday Delivery (contact us for quote)
FedEx Ground Home Delivery - 1-5 days transit time (some residential Saturday deliveries)
FedEx Ground Business Delivery - 1-5 business days transit time
FedEx Express Saver 3Day - 3 business days transit time
FedEx 2nd Day - 2 business days transit time
FexEx Priority Overnight - Delivery by 10:30am the next business day
FedEx Standard Overnight - Delivery by 8pm the next business day
USPS Priority - 1-3 business days transit time
USPS Parcel Post - 2-8 business days transit time
*UPS nor FedEx does not deliver to PO Boxes or APO addresses at this time
Shipping to Alaska & Hawaii
Free shipping is unavailable for Alaskan and Hawaiian orders due to the unavailability of ground delivery. We offer USPS, UPS and FedEx shipping services to these states. Please allow at least 14 business days for non-expedited orders.
UPS Ground Shipping Map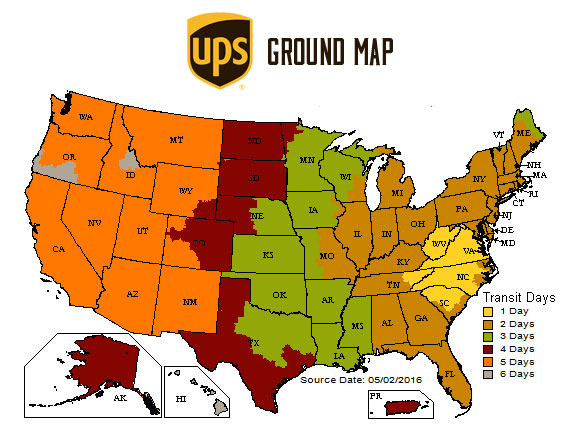 FedEx Ground Shipping Map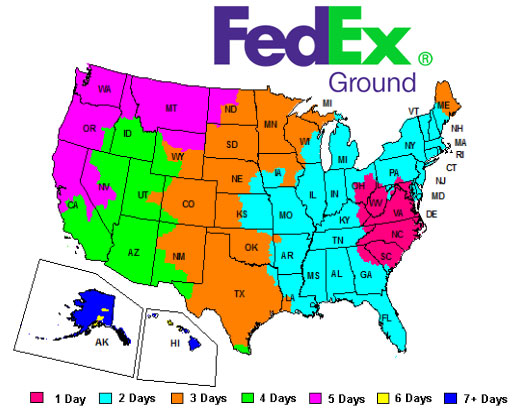 USPS Priority Delivery Map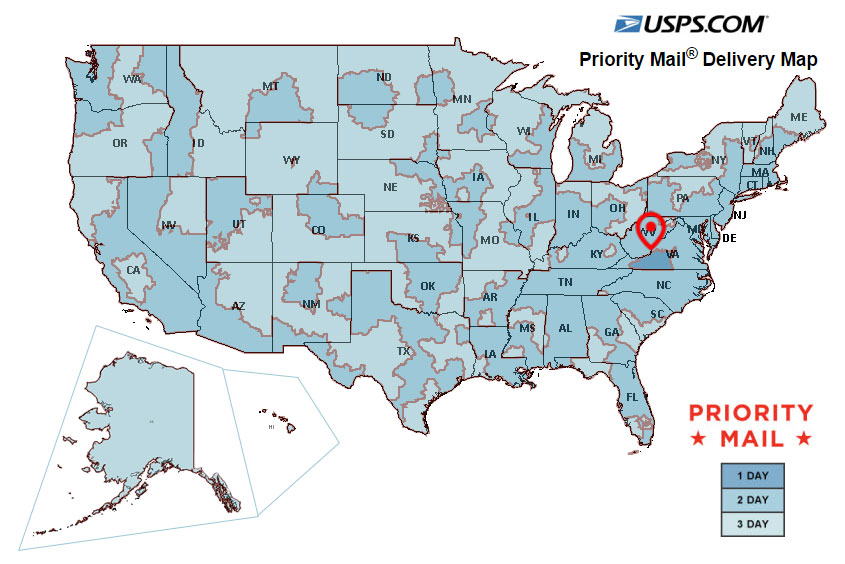 ORMD-Regulated Aerosol Products
Due to the shipping policies of all carriers, ORMD-Regulated aerosol products can only be shipped USPS Standard Post Ground Only. Due to carrier flight restrictions, they are not available to our Hawaii, Alaskan or Canadian customers.
Shipping to P.O. Boxes - Do Not Use UPS or FedEx Standard!
If using a PO Box to ship your order, please make sure to use a shipping method other than UPS or FedEx. The post office cannot accept UPS or FedEx packages but will accept other carriers. If you provide a PO Box address and select an expedited or overnight delivery at checkout, you will be downgraded to another shipping option. If this is the case, we cannot guarantee the difference will be refunded and apologize for any inconvenience.
Shipping to an APO/FPO Military address
We are a proud supporter of our service members and want to make sure our soldiers can order from us too. All orders to APO addresses are shipped via USPS through the military mail system. These orders can take up to 14 days to arrive. Unfortunately, once the package enters the military mail system, due to security reasons the tracking ceases to update and we cannot provide any further tracking information. Please make sure to use the USPS shipping method at checkout as packages with UPS or FedEx shipping cannot and will not be delivered.
INTERNATIONAL SHIPPING
Canadian Shipping Services
Free shipping is not available to Canada. Due to carrier restrictions and rates, we only ship Canadian orders through FedEx Ground Delivery and only to the matching billing address of the credit card. These orders usually arrive within 4-12 business days. Please note that our listed rates do not include customs fees and you will be charged for them. These custom fees include order delivery, customs practices and import taxes. A customs broker can be consulted for any additional help you may need.
We do offer FedEx Expedited Delivery at special request and at an additional cost to you the customer. Please contact us for a delivery quote. Again, this quote will not include customs fees.
International Shipping Services
At this time we do not ship orders internationally beyond North America.
RETURN & EXCHANGE INFO
If you are unsatisfied with your purchase, our return period is 30 days from date of purchase. All returns are subject to a 20% restocking fee based on individual return cases. In all cases, product return shipping cost is the responsibility of the customer, even shipping costs originally covered by The Tanning Store via a promotion or otherwise. Shipping costs are non-refundable. Refunds will be given when the return is received and determined to be in working / reselling order. At this time, any shipping charges and restocking fees will be deducted from the refund amount.
Returning Unopened Containers
Unopened containers of product, (solutions, cosmetics or otherwise) may be returned within 30 days. Sales are considered final on any opened product.
Returning Opened Containers
We do not accept any open containers of product (solutions, cosmetics or otherwise). They are not eligible for refund since they cannot be resold.
Returning Equipment
If you are not satisfied with your equipment purchase, The Tanning Store will refund your purchase amount if the item is within the 30 day return period and is in re-sellable condition including all original packaging, warranty information and accompanying literature.
If the equipment is not returned with all original packaging but is still in good condition, The Tanning Store may deduct a 20% restocking free to cover any lost value in reselling the item as an open box item.
If the equipment returned is not in good condition, The Tanning Store will return the appropriate credit based on the item's estimated value. Any equipment returned in this condition will be subject to a 20% restocking fee.
If you are having problems with the machine, gun or otherwise, we recommend emailing or calling us to troubleshoot and determine any issues via our Contact Us page. If we find a manufacturer defect, we will repair or replace the equipment at no extra charge as long as it is covered under the manufacturer warranty. If the equipment is not functioning properly due to normal wear and tear, we will replace or repair the item if it is under the manufacturer warranty. (Please note in some cases the warranty is covered by the manufacturer and they will have to handle any replacements or repairs.)
International Returns
No international returns on any of our products will be accepted. Once the product has left North America, it is a sold item.
No international returns on equipment will be accepted. Any equipment warranties are void once it leaves North America and we are not responsible for any damage, accidental or otherwise, that occurs once it has left North America.