There are many players in the Airbrush Makeup marketplace, but in market share, three stand out – Temptu, Luminess and Dinair. Temptu has its roots in the professional market with premium pricing, but also has a significant share of the retail consumer market. Luminess is perhaps the largest player and has a retail focus. Dinair was an early market leader and still has a prominent place. Besides these luminaries there are a quite a few smaller, up and coming companies that have had success.
The Basic Airbush Makeup Tools
The requirements for airbrush makeup are an airbrush, an airbrush compressor, and makeup in a form that can be sprayed easily. Airbrush makeup is typically applied at a pressure less than 10 psi (pounds per square inch), although most of the compressors have no pressure display. This is a very minimal requirement, so the airbrush compressors tend to be quite small. Some are even, unfortunately, a bit toy-like. Most of these airbrush compressors will not have a pressure display. Some may have 2 or 3 discrete speeds, although this often isn't that helpful.
A little bit of makeup goes a long way with the airbrush. If a traditional airbrush is used, it is invariably a gravity feed employing a small cup mounted on top of the airbrush to hold makeup. A .35 mm needle size is often used. A .5 mm needle/nozzle is likely too big and coarse. A needle size smaller than .35 mm will produce finer, but slower results. So, something around the .35 size hits the "sweet spot".
Airbrushes with "pod" systems, such as those offered by Temptu work slightly differently. These offer a needle/nozzle integrated into an interchangeable pod container. Essentially, the pod is a mini airbrush that fits into a holder handle. For color changes, a traditional airbrush would need to be flushed before putting product with a new color into the airbrush. With pod systems, you would simply remove the pod with the old color and put in a new pod with the desired color.
A pod system may work in two ways. The pod could be designed to hold a preconfigured color and be disposable when the color is used up. Or, the pod could have a refillable design, requiring cleaning before refilling. In either case, having multiple pods with prefilled popular colors can speed workflow.
Most airbrush makeup kits on the market use traditional airbrushes. Temptu offers both traditional airbrushes such as the sp-35 and pod airbrushes.
Temptu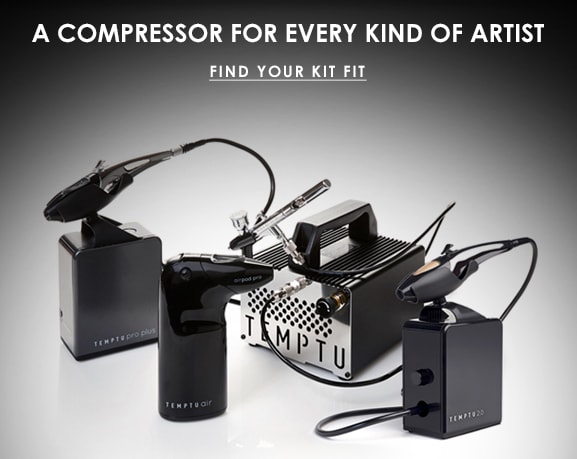 For equipment, Temptu offers traditional airbrush equipment and Air Pod systems. The Temptu Air is an all in one system with Air Pod connected directly to a handheld compressor. The Temptu 2.0 compressor is an entry level compressor that can drive traditional single action airbrushes or AirPod airbrushes. The Pro Plus compressor
Temptu S/B makeup
Temptu has the largest selection of airbrush makeup products. Their product offerings can be a little daunting. Temptu's signature makeup line is Temptu S/B. This has been their dominant product for 15 years and is still the go to choice for most users. It has a soft focus and is forgiving in application. S/B is offered in traditional airbrush makeup packaging.
Perfect Canvas
If more of a matte finish is desired, the traditional choice is a water based airbrush makeup – even though they are not easily adjusted once applied. Temptu dropped their water based Aqua makeup line in favor of Temptu Perfect Canvas. Perfect Canvas has a semi-matte finish and is more like S/B in ease of application. Perfect Canvas is offered in packaging for both pod systems and traditional systems.
SilkSphere
Temptu SilkSphere is a soft-focus, dewy finish like S/B that is in pre-filled, pre-blended Airpods.
Dura
Temptu Dura makeup is more of a body art and special effects type of makeup rather than a beauty product. Dura is an alcohol based highly pigmented product. It is waterproof and long lasting.
Top Makeup Kit for the Aspiring Artist
For the aspiring makeup artist, this Temptu kit offers a complete pallette of foundation shades for all skin tones. The kit is based on Temptu's signature luminous airbrush Makeup -- Temptu S/B.
2.0 Premier Kit includes:
AIRbrush 2.0 Compressor
SP-40 Airbrush
12 Pack S/B Foundation 1/4 oz Starter Set
Airbrush Cleaning Kit
4 oz S/B Cleaner
Luminess
Luminess airbrush makeup is heavily targeted to tv and online sales. To succeed in this market, Luminess needs a superior appearance, attractive packaging and low entry cost. The Icon Pro airbrush compressor is beautifully designed with a rose gold trim that matches the rose gold airbrush, or stylus as Luminess prefers to call it. The compressor has a one button operation and built in stylus holder.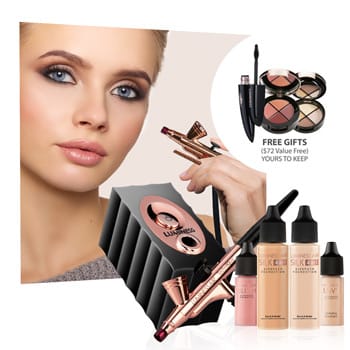 The promoted makeup kit at this writing included two Luminess Silk airbrush makeup foundations, and Luminess Silk Blush and Hydrating Illuminator. A free bonus gift offer may also be part of the kit. The shade of the airbrush foundation is determined by selecting one of six shade groups: Fair, Medium, Warm, Tan, Deep and Rich.
Luminess Silk is a 4-In-1 airbrush foundation: Foundation + Concealer + Corrector + Primer.
Silk is an ultra-lightweight, sheer buildable coverage foundation with a rich skin perfecting finish. Silk flawlessly transforms your skin giving you a smooth and silky complexion that looks and feels as young and fresh as new skin.
Hydrolyzed silk in the formula refracts light across the skin, helping to soften the look of lines, wrinkles and rough texture, creating a smoother, younger-looking appearance. Includes cucumber and neem extracts to soothe the skin, and glycerin and humectants that draw in moisture.
To facilitate the sale, the offer -- as this review was written -- was a 30 day trial for $19.95 plus free shipping. After that, by special promotion, three payments of $39.99 plus a processing fee completes the order. Without the promotion, five payments of $59.99 purchases the kit.
While the promoted offerings are highly focused and targeted, Luminess does offer an extensive line of companion airbrush makeup products. Check out their site for more details.
Dinair
Dinair has been around since the beginning of airbrush makeup and has an extensive line of products. Dinair had a formative role in airbrush makeup.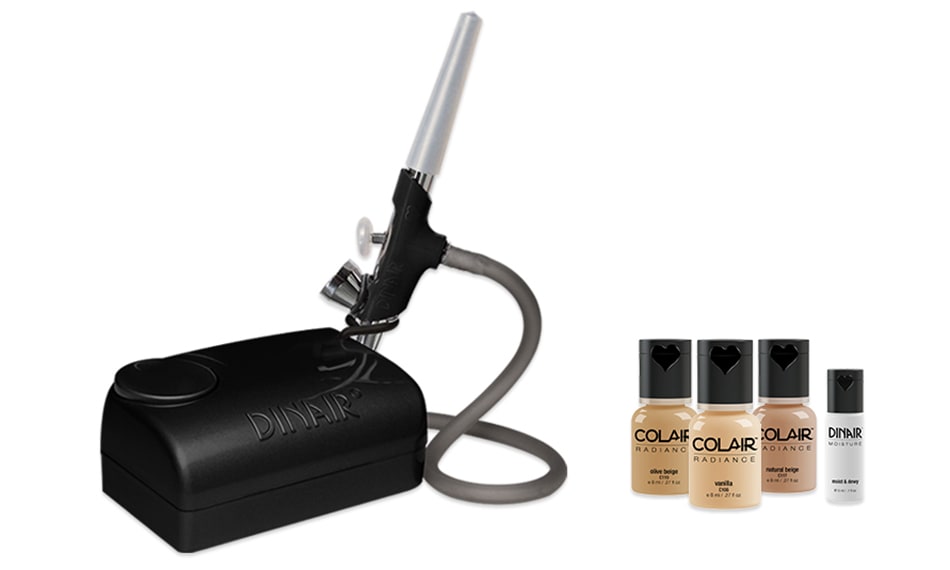 The Foundation Plus Kit is an introductory kit for Dinair that includes three foundations chosen from four ranges: Fair, Medium, Tan and Dark. The kit also includes facial moisturizer and airbrush cleaner.
The Kit is based on Dinair's one speed compressor and Advanced Beauty Airbrush and hose.
Belloccio
Belloccio Airbrushing Cosmetic Makeup System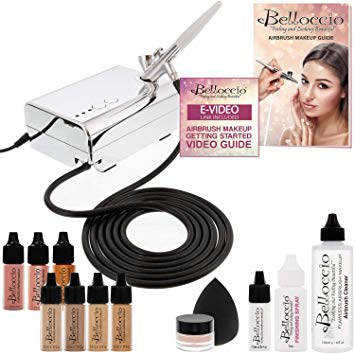 Super quiet mini airbrush compressor: Has 3 airflow control settings, 6 foot push on rubber airbrush hose and airbrush holder. Operates at 12V DC with a 110V AC plug in adapter
Professional Precision Single-Action Gravity Feed Makeup Airbrush: Has a 0.4mm tip & 1/16 oz cup. Airbrush is designed to provide an ultra fine mist of makeup, allowing you to achieve a flawless, soft natural complexion
User Guide Manual: Detailed steps for getting the best results with the system
Belloccio Medium Shade Airbrush Makeup Foundation Set with 4 Colors and Primer
Belloccio's medium color foundation shades: For medium skin tones with pink, yellow and olive undertones (4 - 1/4 oz bottles). Colors: Beige, ivory, golden tan and cappuccino
Anti-Aging Moisturizing Primer: (1/4 oz bottle) for use before, during or after makeup is applied
Belloccio Blush, Shimmer and Bronzer Shade Set (3 shades in 1/4 oz bottles) - Charming Lily Blush: (Peachy Pink Tone) Matte blush that's perfectly pigmented to achieve a natural healthy-looking color that instantly brightens your complexion. Champagne Shimmer Highlighter: (Peach Shimmer) Shimmer creates a radiant pearlized effect and emphasize features on body, face, eyes and cheeks. Radiant Bronzer: (Rich bronzer with golden pearlized effect) A radiant enhancer for eyes and cheeks to achieve that healthy radiant after sunglow
3 Free Bonus Belloccio Products:
5 gram jar of medium shade concealer: A high definition concealer that's perfect for hiding under eye circles and other hard to hide blemishes before airbrushing on your foundation.
Egg shaped Belloccio makeup blending sponge: A cosmetic blending and application sponge that's perfect for applying concealers, makeup, creams and powders.
1 oz. bottle of Belloccio's airbrush makeup finishing spray: A lightweight refreshing airbrush finishing spray that sets your makeup, so it stays in place and looks fresh all day.
Online Link for the Belloccio Airbrush Makeup Getting Started Guide Video: Includes equipment setup and usage, basics of airbrushing, makeup application, cleaning the airbrush, before and after and more. Demonstrates equipment use and the essential makeup application techniques and tips needed to achieve fast, easy and flawless results in minutes!
Belloccio Airbrush Cleaner (4 ounce bottle)
Art of Air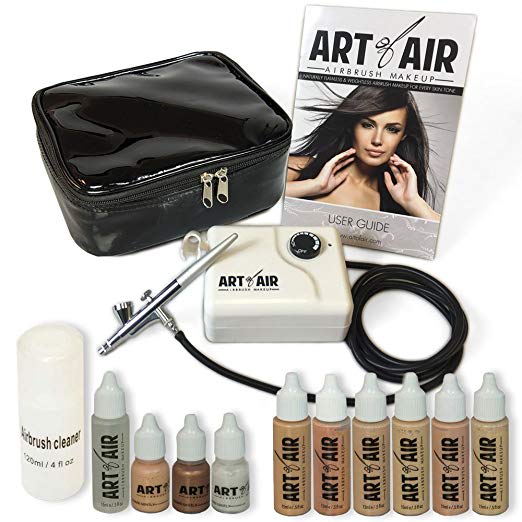 Art of Air Airbrush Makeup Kit
Super Quiet Mini Airbrush Compressor with Fully Adjustable Airflow Control Settings, 6 Foot Push on Rubber Airbrush Hose and Airbrush Holder. Operates at 12V DC with a 110V AC plug in Adapter
Professional Precision Single-Action Gravity Feed Airbrush with a 0.4mm Tip & 1/16 oz Cup. Airbrush is designed to provide an ultra fine mist of makeup, allowing you to achieve a flawless, soft natural complexion.
Fair to Medium Tone Makeup Foundation (6 x 1/2oz bottles) : Golden Olive, Sand, Honey, Buff Beige, Suntan Glo, Moca
Anti-Aging Moisturizing Primer (1/2 oz Bottle) for use before, during or after makeup is applied.
Tropical Bronzer (1/4 oz Bottle) A radiant enhancer for eyes and cheeks to achieve that healthy radiant after sun glow.
Pink Papaya Blush (1/4 oz Bottle) Perfectly pigmented to achieve a natural healthy-looking color that instantly brightens your complexion.
Pearl Shimmer Highlighter (1/4 oz Bottle) to create a radiant pearlized effect and emphasize features on body, face, eyes and cheeks
Airbrush Cleaner (4oz Bottle)
Deluxe Carrying Bag
Aeroblend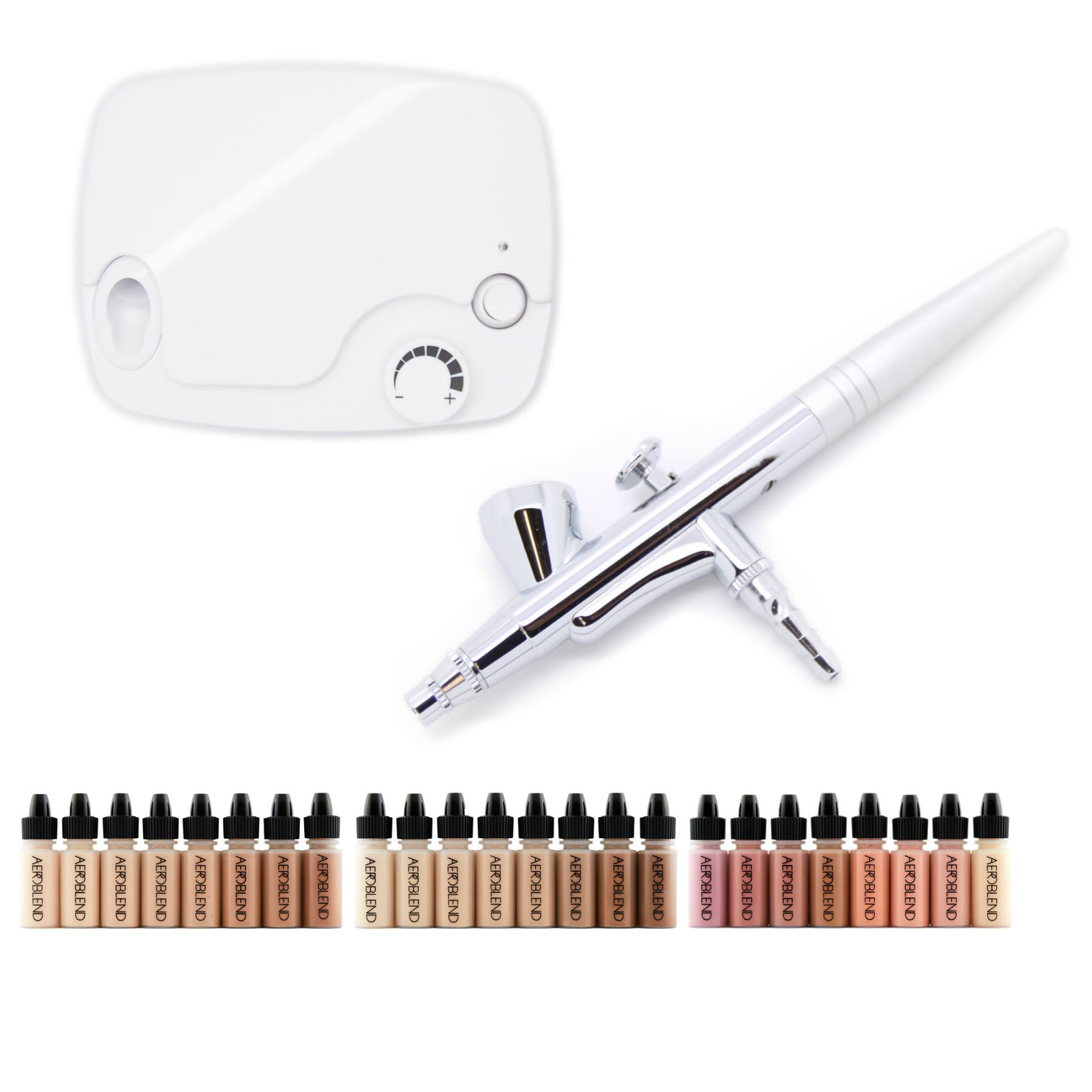 Aeroblend Airbrush PRO Kit
16 Aeroblend Foundations (6ml each)
6 Aeroblend Airbrush Blush (6ml)
1 Aeroblend Highlighter(6ml)
1 Aeroblend Bronzer(6ml)
Ultra-Quiet Compressor
Double Action Airbrush Stylus
Hose
110V AC Plug (for USA and North America)
The Aeroblend Airbrush color range has been calibrated to match real skin tones. Many airbrush cosmetics on the market require time consuming mixing with toners that can be intimidating for artists, much less consumers. Our shade classification makes foundation matching easy and simple to understand.
Photo Finish
Photo Finish Professional Airbrush Cosmetic Makeup System Kit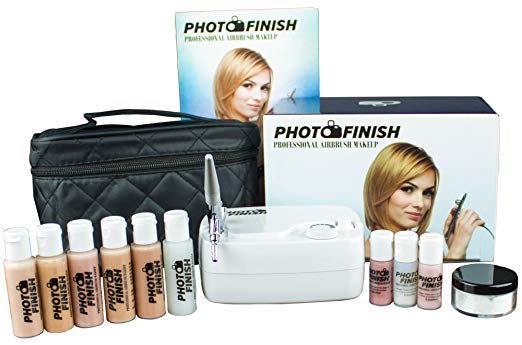 Complete Airbrush System, nothing else needed to get started! for Beginner and Professional use. Includes:
Cosmetic Makeup Airbrush and Compressor System
5 piece Fair to Medium Foundation Set
Blush
concealer
Shimmer
Neroli Anti Aging Primer
and Silica Finishing Powder
Tickled Pink
Tickled Pink Standard Airbrush Makeup Kit
Airbrush Makeup kit contents:
(3) Three ½ oz. Sample Bottles of Tickled Pink's Cosmetic Aloe Airbrush Makeup Foundation
Sample ¼ oz. Tickled Pink's Cosmetic Airbrush Moisturizer
Sample ¼ oz. Tickled Pink's Cosmetic Airbrush Waterproof Sealant
Professional All Metal High Quality Cosmetic Makeup Airbrush Gun
Compact Feminine Cosmetic Airbrush Compressor with Adjustable Air Pressure
Convenient Cosmetic Airbrush Gun Holder
Flexible Air Hose
AC adapter
Carrying Case
Mineral Air
Mineral Air Complexion Starter Kit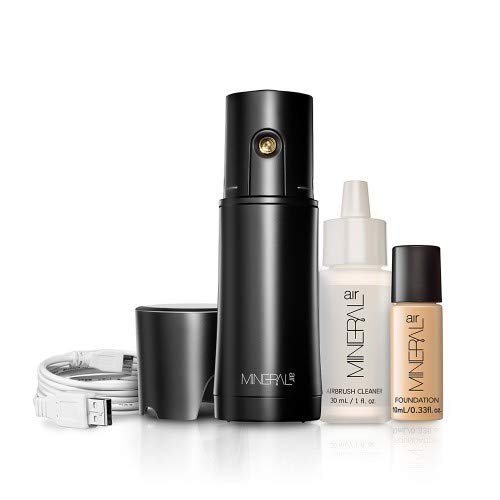 The Mineral Air AirMist makeup kit that started it all. This complete 4-piece Mineral Air Complexion Starter Kit delivers precision application of our light-as-air Four-in-One Mineral Foundation for a dewy, satin finish that lasts up to 10 hours.
Complexion-loving ingredients from us mean better-looking skin for you.


Formulated Without
Parabens
Talc
Phthalate
Mineral oil
Gluten
BHT/BHA
Synthetic dyes
Fragrance
Cruelty-free
Four-in-One Foundation formula combines primer, concealer, hydrator and pigment
AirMist Device (with Reservoir Head)
One Four-in-One Foundation 10ml/0.33 fl. oz. in the shade of your choice
One travel size Airbrush Cleaner 30ml/1 fl. oz. travel size
Micro Mini USB Charging Cord
Pro Artist Options
Kett Cosmetics and Graftobian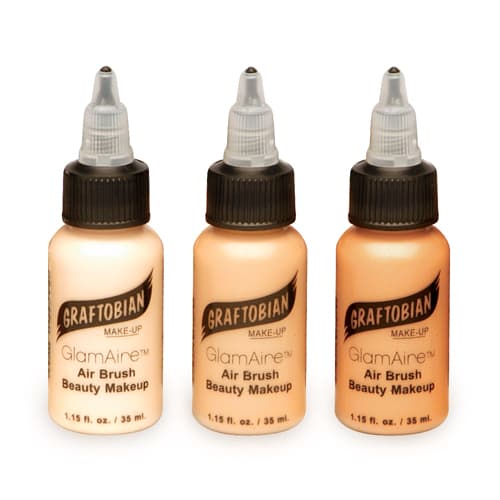 Airbrush Makeup Kits that are popularly mentioned, fail to note some products that professional makeup artists use. Products such as Graftobian GlamAire and Kett's Hydro series are popular among Hollywood makeup artists. You could make your own kit built around these products.
What equipment would you use in making your own kit? A seasoned professional might opt for an Iwata HP-C Plus airbrush or an Iwata Smart Jet pro compressor. But a more economical Iwata HP-CR and Iwata Silver Jet would be a good choice. Or, any of the equipment previously reviewed should work as well.